Roll over image to zoom in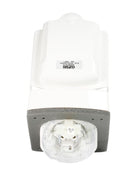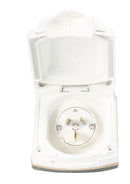 Description
Weatherproof Inlet 15 Amp White IP34
Features:
435VFS15 Socket Inlet, 3 Pin, 15A, 250V, IP34,
Weatherproof Flap Flush inlet socket 250V 15A - with weatherproof flap and insulated pins.
(Accepts 438S15 extension sockets with shroud) IP34 with plug inserted
The 435VF15 has been the standard in the caravan and portable building industry for many years. 
The 435VFS15 model has insulated safety pins to prevent accidental electrical contact and a recess placed in the inlet to allow the acceptance of a 15A shrouded female socket Weatherproof flap
Payment & Security
Your payment information is processed securely. We do not store credit card details nor have access to your credit card information.