Roll over image to zoom in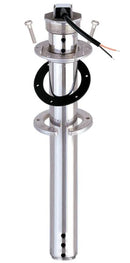 Description
Sender Holding Tank 18"w/Adaptor 68/72SM
# 65425
The Holding Tank Level Sender is used in mainly black or grey water tanks. Can also be used in freshwater tanks.
Material: SS316 Stainless Steel
Max Current: 500mA
Mounting: NPT 1 1/2″ thread twist-in, with standard 6 hole thread flange plate, standard 6 hole under ring and 6 piece of M5x30 screws
Commonly used 64SY,68SM,72SM
Payment & Security
Your payment information is processed securely. We do not store credit card details nor have access to your credit card information.