Roll over image to zoom in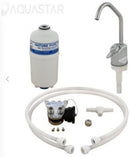 Description
Purifier Water Nature Pure QC with Tap
For exceptional water purification technology, the clear choice is the Nature Pure QC2 by General Ecology. This unit includes a quick-change cartridge system that eliminates the need for traditional pressure vessel housings. Users will be able to swap out filters with ease, as the small, lightweight replaceable canisters can be installed by hand in less than 20 seconds. The system also features an Easy Winterization bypass!
The unit itself is a compact stainless-steel interface device with integral stainless-steel mounting brackets. Environmentally friendly, the Nature Pure QC2 provides purification down to 0.4 microns. You will enjoy clean water that is free from organisms that cause diseases, such as Giardia and Cryptosporidia, without adding chemicals, electricity, or hold time. The replacement cartridge is rated at 600-gallon capacity.
Payment & Security
Your payment information is processed securely. We do not store credit card details nor have access to your credit card information.