Roll over image to zoom in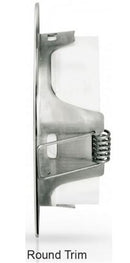 Description
Light EuroLED95 Cool White SS Round
# 79816
Hella EuroLED 95 Gen 2 LED Downlight (2JA 958 340-011)
White Light with Round Stainless Rim and Spring Clips
Interior-Exterior Waterproof  - 9-33V Multivoltage
The smooth diffused lens creates a comfortable and uniform appearance with over 420 lumens of actual light in a broad and even illumination. The super low profile trim is available in both square and round shapes, made of marine grade 316 stainless steel and highly polished to super yacht standards.
Bright 5000K white LED's are best for enhanced brightness in working conditions. A high colour rending index of 80+ also ensures object and surface colours are replicated naturally
Hella marine lamps are completely sealed so can be used for interior and exterior, wet or dry locations. These ultra-reliable lamps are impervious to the marine environment and can be fitted throughout the vessel, maintaining a consistent appearance. Pre-wired with marine tinned cable and 316 stainless steel spring clips, the EuroLED 95 lamps are designed for easy installation. Multivolt electronics allow the lamp to be fitted to 12V and 24V systems while still being dimmable via 'PWM' dimmer.


Payment & Security
Your payment information is processed securely. We do not store credit card details nor have access to your credit card information.