Roll over image to zoom in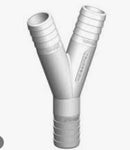 Description
Joiner Tail Y Composite Tail White 38Mm #11599
 Tru-Design Y Pieces are the superior composite connection for combining the flow from 2 hoses. The Y Piece allows smooth flow leading to reduced chances of blockages. Salt buildup is reduced when used with seawater as all surfaces are flushed.
Tru-Design Y Pieces are moulded from a glass reinforced nylon composite. High strength, high-modulus glass fibres impregnated into the nylon provides dramatic strength, stiffness, toughness, and dimensional stability.
Tru-Design Y Pieces eliminate the corrosion and electrical bonding problems associated with metallic fittings. The Y Pieces are designed for twin hose clamps, and to not crush under high load conditions.
Payment & Security
Your payment information is processed securely. We do not store credit card details nor have access to your credit card information.