Roll over image to zoom in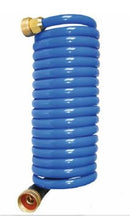 Description
Hose Deckwash Coil Blue 25Ft R48Oe
HoseCoils New HP hose is the ideal deck washdown hose. It is made from top-of-the-line high performance new Polyether material for high strength, durability, re-coil memory & improved resistance to salt and UV. It also has "flex relief" on the end of the hose to eliminate any hose strain.
 New HP high performance Polyether hose
 Lightweight - easy to use
 High strength & durability
 Salt & UV resistant
 10mm diameter self-coiling hose - easy to stow
 Excellent "memory" for retractability
 Flex relief end to eliminate hose strain
 85-90% usable length - excellent hose extendibility
 Solid brass end fittings - USA garden hose threaded
 Hose allows up to 22 litres per minute flow rate
Payment & Security
Your payment information is processed securely. We do not store credit card details nor have access to your credit card information.