Roll over image to zoom in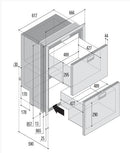 Description
Fridge/Freezer Ss 2 Draw Vitrifrigo DW180
# 43876
The Stainless Steel Drawer Series has been completely updated in both design and function. The stylish new square edge door design with the Steelock positive latch handle has the added functionality of a vent position for air circulation during periods of non-use preventing mould or bad odours in the fridge. The single section, stainless steel fitting frame allows the fridge to be securely fixed either with the door flush or proud of your furniture and has integrated vent slots to improve air flow and the efficiency of the cooling unit behind.
Steelock: design and technology into a "top" lock (Flush Flange only)
LED Thermostat: An elegant thermostat for a perfect temperature setting
Vent Position: The new Steelock latch has a vent position for air circulation during periods of non-use.
Venting Frame: New hole system for better air circulation and cooling efficiency
Drawers: multi purpose spacious and sturdy drawers
Stainless steel 316: Models of the drawer series are made of stainless steel 316
Led light: LED light for a perfect lighting in your fridge
Dimensions (W x H x D): 666mm x 866mm x 590mm
Weight: 56kg
Power Voltage: 12/24Vdc (also available with dual electronic box 12/24Vdc - 100-240Vac 50/60Hz)
Current Consumption: 12V 2.8A
Capacity: 144 litres
Upper compartment volume: 80 litres
Lower compartment volume: 64 litres
Payment & Security
Your payment information is processed securely. We do not store credit card details nor have access to your credit card information.